I appreciate the opportunity to respond to James Valliant's thoughtful review of my book. Unlike many reviewers of Goddess of the Market: Ayn Rand and the American Right, Valliant does not use the review solely as a pretext to put forth his own ideas about Rand. Instead, much like reviewers who wrote for Rand's own Objectivist Newsletter and Objectivist, he characterizes my book's methodology and approach, grapples seriously with the issues the book raises, and then advances his own Objectivist critique. While I don't agree with many of his criticisms, I do agree with the spirit in which he writes. In this response, I will briefly touch upon a few broad themes his review covers.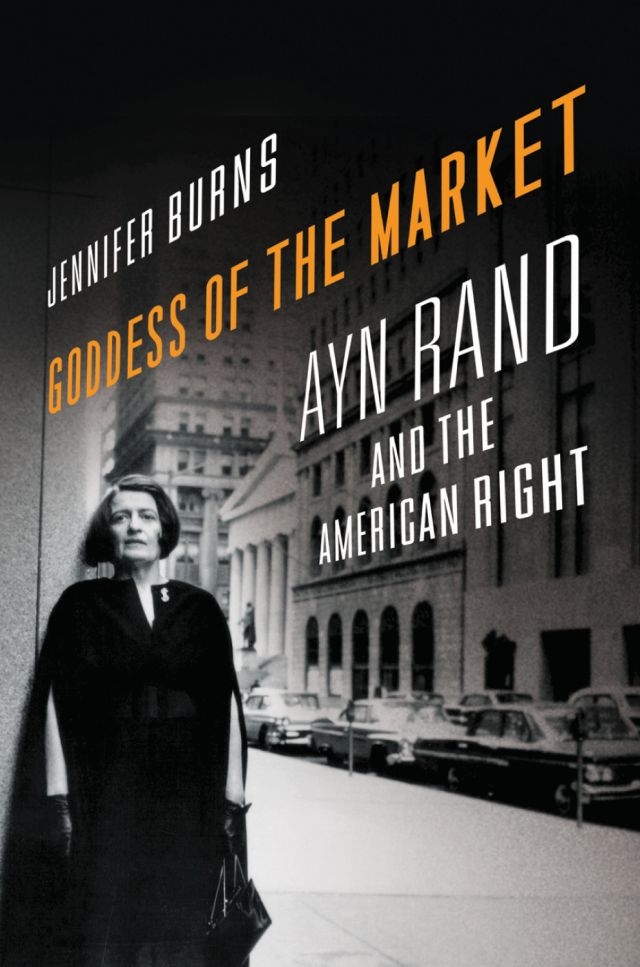 Goddess of the Market Valliant's attention to the context in which my book was published is welcome. In contrast to most hostile and appreciate reviewers of Goddess of the Market, Valliant is well versed in both the secondary literature about Rand and the historical literature about twentieth century conservatism and libertarianism. Thus he is willing to take my book on its own terms, as a contribution to this specific body of knowledge rather than a comprehensive treatise on all aspects of Rand's thought. This enables him to understand that my book "provides – for the first time in detail – an account of Rand's relationship to what has been called the 'right wing intellectual movement of the 20th century'" and that it is "necessary reading for the serious scholar."
Valliant also understands how unpopular Rand is in academic circles, and congratulates me on my "massive courage" for writing such an account. While I'll accept part of this compliment, it's worth noting that my decision to study Rand was perhaps less a leap of faith than he implies. From the start of my project, I have received a great deal of interest and encouragement from most of my fellow historians, including many who consider themselves firmly on the left. Much of academia remains hostile to Rand, though at least in my discipline, the growing body of work about the political right makes her impossible to ignore. My goal was not to dispel the hostility against Rand, which is more than one book can accomplish, but I did hope to at least create a more informed hostility.
Though Valliant in general praises my research, we do disagree about the reliability of some sources I used, namely the memoirs of Barbara and Nathaniel Branden. Of course the Brandens' memoirs inform my account: it would have been irresponsible of me as a historian to write off the accounts of the two people closest to Rand for nearly twenty years. I don't agree that because these books have their limitations, they are irredeemably damaged as sources of information about Rand. Indeed, one of the benefits of working in the Ayn Rand Archives was that I was able to, as Valliant suggests, corroborate much of their description of Rand and their relationship with her. If my research had revealed a personality or series of events profoundly different than what the Brandens described, I would have said so: it did not. Valliant refers to the Brandens' 1968 letter "In Response to Ayn Rand," as evidence of their unreliability, but both Brandens have clarified in later work the very significant omissions of fact in this letter. Ultimately, all of history is a secondhand account and as Rand might say, a selective recreation of reality. Casting a wide net and reading sources with a critical eye is the best strategy for approximating the past, and accordingly I believe the testimony of all figures who knew Rand, no matter how difficult their relationship, needs to be integrated into the story of her life and development.
Valliant takes me to task for my use of the word Aryan to describe Rand's characters, and given the historic slur that Rand is a fascist, I should have been more careful in my terminology. Still, I believe the ethnicity of Rand's characters is striking. Her two major novels are set in New York City, a polyglot metropolis with a nearly half the population of Eastern European Jewish origin, yet her massive novels are populated almost exclusively with characters who from their names and physical descriptions are of Northern European or Anglo descent. Perhaps as an individualist Rand wished to avoid any association with ethnic particularism. If so, why is the default ethnicity for Rand a bland Anglo-Saxon type? Surely this was a deliberate decision; reflecting upon her first months in Chicago, Rand characterized her Jewish relatives as not being really American. This is yet another piece of my larger argument that Rand did not stand apart from her time, but was influenced by the larger historical context in which she lived and worked. In a politically charged and moralistic novel about life in America, the absence of ethnicity is striking. It is also unfortunate, for as I show in Goddess of the Market, many readers were quick to read their own ideas about race and ethnicity into Atlas Shrugged.
The chief thrust of Valliant's critique, however, is that I depict Rand's ideas as evolving rather than static, failing to appreciate "the stalwart and straight line of Rand's own intellectual career" and to understand that "Rand was a rock of intellectual changelessness and consistency in a tumultuous sea." In comparison to the figures Valliant cites, who made some of the wildest swings in ideology imaginable, Rand was a paragon of consistency. It is to her credit that she saw Communism for what it was right from the start – though she had "inside information" that most American intellectuals lacked – and I do not believe any attentive reader of my book would miss this aspect of Rand's thought.
Yet for Valliant Rand is more than consistent, she is unchanging, even when her own writing indicates otherwise. Some of this may come from Valliant's focus on her published work, when most of my book looks at the spadework that went into Rand's publications. In these unpublished materials, I find marked differences in tone and temper – which are important to any discussion of Rand's ideas. But for Valliant, these differences are nothing more than "stylistic adjustment to differing venues for her thought." If Rand began writing more about philosophy in the 1960s, that fact is insignificant to Valliant and indicates nothing more than "a new interest in writing about it." For Valliant, "The process of Rand's development was largely the process of finding the right words to express her original intention and the language to fit her unique vision with precise clarity."
Here we are at an impasse about the meaning and significance of language. For Valliant, language does not precisely express concepts or meaning: if Rand changed the language she used, it was not because her ideas changed but because she simply expanded the repertoire of words she had at her disposal. This argument sheds some light on why editors at the Ayn Rand Institute consider it perfectly acceptable to alter Rand's language in compilations of her writings, speeches, and interviews. It is not, however, convincing to me, particularly when we are discussing a novelist who was legendary for her precise use of language and her desire to painstakingly craft a stylized universe. Nor is it an adequate explanation for philosophy, a field that hinges upon the precise usage of language. As Rand might say, if words don't express meaning, then we are lost in a sea of subjectivity.
On the issue of Nietzsche, again, there is a fundamental difference between how Valliant and I characterize intellectual influence. I certainly would not lump all egoists into the Nietzschian category. But the evidence of Nietzsche's importance to Rand is irrefutable: not only in drafts of The Fountainhead, where each section of the book is prefaced by a headnote from Nietzsche, but in the book's 1968 twenty-fifth anniversary edition, where Rand meditates on Nietzsche as an inspiration, and in her final 1975 message in The Ayn Rand Letter where she wearily quotes his dictum "it is not my function to be a flyswatter." Thus we see that throughout her life, Nietzsche was a touchstone for Rand, and she was profoundly influenced by his work – yet this does not mean she was a "true Nietzschian" or in agreement with the fundamentals of his philosophy. It means that Nietzsche was a thinker who spoke to her, aroused her to great thought and disagreement, shaped her views and her goals and her vision of herself.
That Valliant and I have profoundly different understandings of what it means to say one thinker influenced another comes clear in the end of his review, when he rather unfairly claims that "It is almost as if Burns, an intellectual historian, does not recognize an independent causal role for the human intellect." My exegesis of Rand's thought comes from eight years working in her unedited personal papers, reading her diaries, drafts, notes, correspondence, articles and books she read, daily schedules, all the ephemera of her personal and professional life. What I found in this material was not a solitary and isolated woman living atop an intellectual mountaintop, but a deeply engaged and passionate thinker who worked her way through many of the most pressing ethical issues of her time. And she did it by reading what others wrote, thinking about what others said, and then refining her own responses over time. Her intellect was the driving causal force in her life; but it drove through a landscape populated with significant others who left their mark.
In the conclusion of his review, Valliant writes that "a true rendering of Ayn Rand's life and ideas, indeed her very spirit, still awaits its muse." I fear here a hint that Rand's life ought properly be written by those who accept her philosophy. This idea does disservice to Rand by claiming her for a narrow slice of her readers, those in search of a systemic philosophy and willing to embrace the one Rand created. There is far more to Rand than Objectivism, and it is not necessary to accept her philosophy in order to understand her singular contribution to American thought. Luckily as Valliant notes, with the opening of the Ayn Rand Archives, "a new era in the scholarship of Rand's life and work has begun."
-Jennifer Burns
www.jenniferburns.org