In the teeth of fierce opposition itching for a new law regulating UK press and investigative journalism, David Cameron says:
"The issue of principle is that for the first time we would have crossed the rubicon of writing elements of press regulation into the law of the land.
"We should I believe be wary of any legislation that has the potential to infringe free speech and a free press.
"In this House – which has been a bulwark of democracy for centuries – we should think very, very carefully before crossing this line."
Transcript of David Cameron's speech to Parliament [1]
The response:
In an outspoken interview, the Labour leader reveals that he is prepared to fight to bring in a law to regulate the press.
Ed Miliband: PM has betrayed the victims of Britain's newspapers [2]
"He flatters Nick Clegg for being "courageous and right" in also opposing Cameron and praises Tories who have defied their leader. He will give the cross-party talks some time but not more than three weeks. Then he will throw his weight behind attempts to build a cross-party alliance that he hopes will inflict a devastating Commons defeat on the prime minister. He calculates that he has "the vast majority" of the public with him and that Cameron looks shifty and evasive. "He has one more chance to show leadership," he says, quite enjoying the moment.
Hacked Off petition for 'Leveson in full' gains ground despite concerns [3]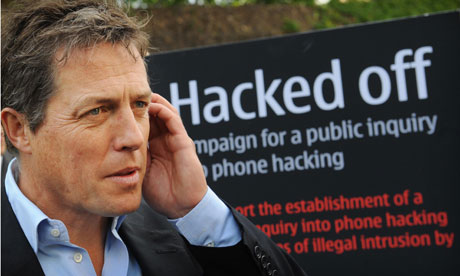 "More than 110,000 people have signed a petition calling for the Leveson Report to be implemented in full, despite growing fears that some of its less-publicised recommendations could hamper investigative journalism.
The petition was drawn up by Hacked Off, the group established by victims of phone hacking, and was launched last week by Gerry McCann and Christopher Jefferies after Lord Justice Leveson published his report. By yesterday afternoon, the unconfirmed total of people backing the online petition had passed 115,000.
Hacked Off group director Brian Cathcart said: "This is a powerful indication of the strength of public feeling on Leveson. We have long known that the public is firmly behind effective, independent regulation of the press."
In the wake of the report's publication last Thursday , the Prime Minister, David Cameron, rejected the central recommendation that an independent regulatory body should have statutory underpinning, to the fury of anti-hacking campaigners.
The actor Hugh Grant, a member of Hacked Off, said yesterday that the Prime Minister's position was "very close to disgraceful".